Admins can make edits to the resources to constantly improve the quality of the resources. Users of the resources get an option to Suggest Edits to the resources which is a great way of making improvements to the content of the resources.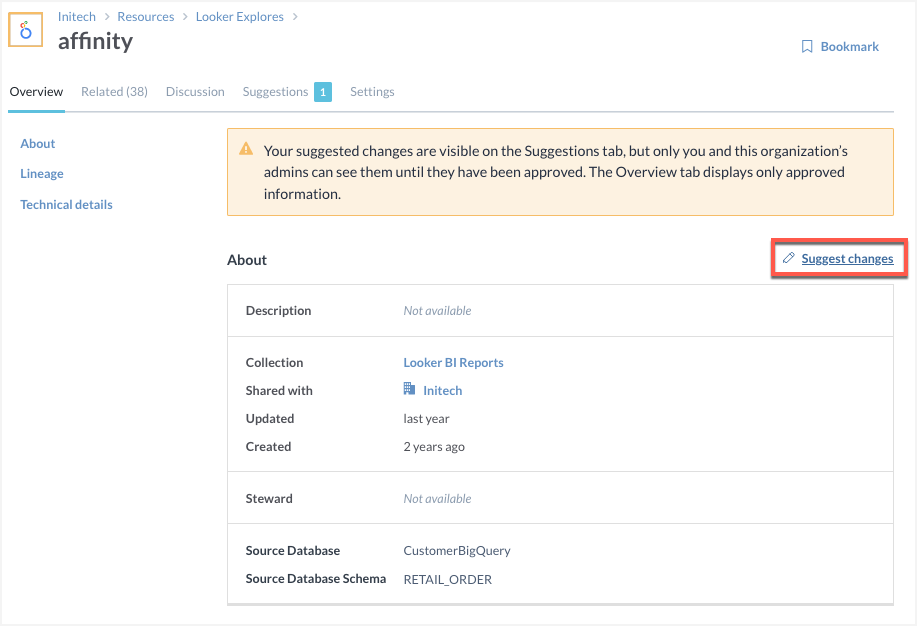 To edit a custom resource:
From the List page of the resources, click the resource you wish to edit.

In the Overview section, click the Edit button to make required changes from the Edit window.

On the Overview tab, set the title and description and add tags to the resource. You can also change the Collection on the resource. A resource can belong to multiple collections.

On the Status tab, set the status as Approved, Pending, Deprecated, Rejected, Warning (these options can vary for each organization). Even though the status is optional, it is a good practice to set a status as it helps users of the data to identify the reliability of the data.

If other users have suggested changes, you will see a note on the top of the page. Click the Review suggestion link to get to the Approvals tab where you can see the suggested change.

On the Approval tab, review and accept or reject the suggestion.

In addition to suggesting changes to a resource, users can also start discussions around a resource. Go to the Discussion tab to monitor the ongoing discussions and participate in them. The Discussion tab captures all the communication between users about the resource.

You get an option to Flag or Like comments in a discussion. Flagging notifies a moderator of potentially inappropriate content in the post.

The contents on the Discussion tab are grouped into topics. Use the default topic or start a new one. Define the discussion topic, the category (General or To dos), and the first comment for the topic. Comments in topics are written in Markdown and can contain images and links.