Data governance teams govern large volumes of diverse data with hundreds, sometimes thousands of stakeholders. Much of that work is manual and time consuming, such as metadata enrichment and managing data access requests. The Data Governance application enables governance teams to more effectively manage tasks and engage stakeholders.
The data.world Data Governance application enables automations and automation-driven workflows. As part of the data.world Data Governance application, automations called Eureka Bots reduce the amount of manual effort needed for data governance tasks, helping to increase productivity, engagement, and trust.
data.world Data Governance Powered By Eureka Bots combines automations with data.world's Knowledge Graph architecture to create an application that is simple, flexible, and interactive. This new application – part of data.world's Data Catalog Platform – enables data governance teams to be more productive, customize workflow, and engage stakeholders in data governance processes.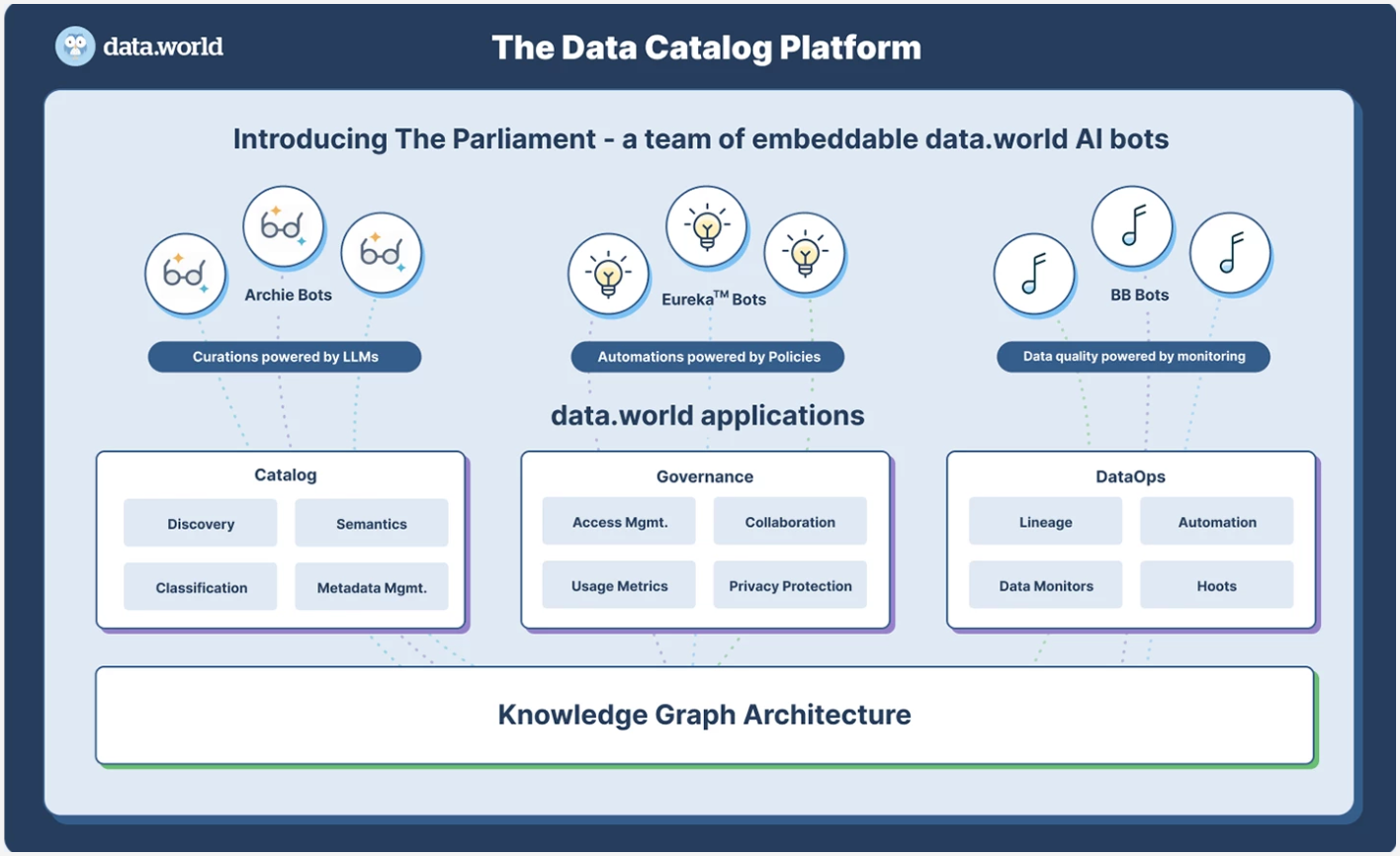 Each organization in data.world comes with a set of automations that you can use for metadata enrichment, metadata completeness, metadata freshness, ownership assignment, and query based actions.
Customers can purchase the following additional automations to set up comprehensive workflows for access requests for resources.
How does the application work?
The Data Governance application comes in two tiers.
Data Governance Core tier is included with the Standard version of the data.world Platform and includes single-step automations.

Data Governance Premium tier is an add-on to the Platform that augments the Core automations with multi-step workflows and task management capabilities.
Automations and automation-driven workflows are both available in the Platform's Automation gallery. Tasks can be claimed and managed from a dedicated UI. The application also includes built-in reporting to enable data governance teams to manage progress and prioritize efforts.
Configure automations and automation-driven workflows using the automation templates.
Important
Only Organization administrators can view, configure, and run automations.
Claim and manage data governance tasks in one place.