The Connection manager is a one-stop shop for creating and managing org-owned connections to your data sources. These connections can be used to:
Catalog your metadata (similar to the data.world catalog collectors)

Access your data (either through a live table or through a data extract)
The Connection manager is the easiest way to create a connection to both your data and to your metadata in data.world. It uses a in-app dialog for all configuration options, and is used without recourse to a script, file, or command-line interface.
To create a new connection to your data sources, select the Add connection button:
The dialog opened lists the database sources for which you can create an organization level connection: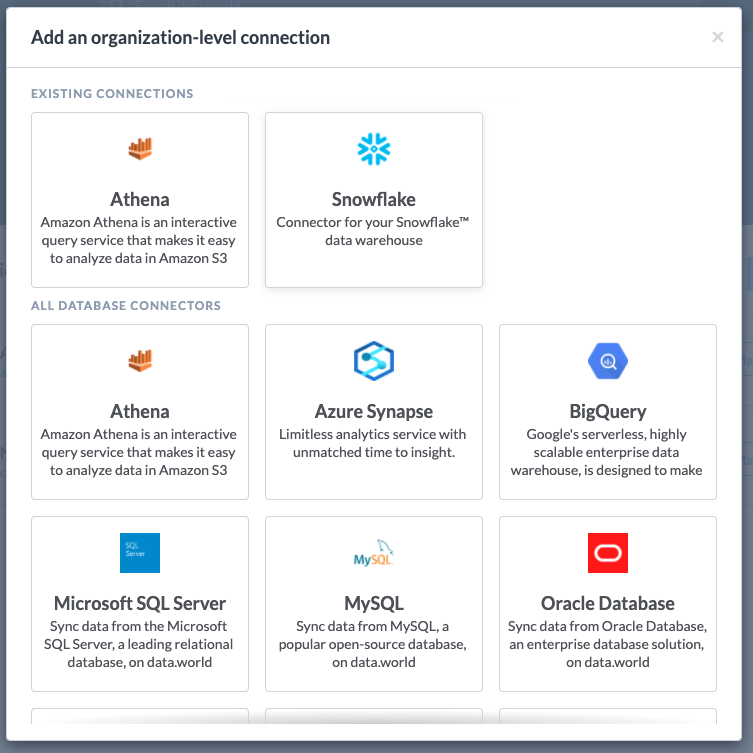 Select a source to be presented with the configuration screen for your connection.
Select your database from the following list to get specific configuration for it:
Edit or delete existing connections
The three dot menu to the right of a connection name on the Connection manager allows to you both Edit connection and to Delete connection.
Edit connection links to the same configuration page used to create the connection, and you need to have the same security information (login, password, etc.) to change anything about the connection. Delete connection prompts you to be sure you want to proceed, but does not require any further validation.
Note
Any organization admin or other authorized person with the credentials for a connection can modify it, and any data steward or other authorized person with access to the Connection manager can delete connections.
The Manage tasks button to the right of each connection links to a list of all the tasks for that connection. Tasks will eventually expand to include many more options, but for now only a metadata task is able to be created. A Metadata task catalogs the metadata for a data source and places the extracted information into a specified Collection.
Note
Before creating a task you need to have a collection in which to put your task output. The collection must be created before the task.
Caution
Tasks work with version 2.x of DWCC. If you are still using DWCC v1.x, see the article on DWCC v2.0 for more information.DWCC v.2.0
The Create a task button opens a dialog where you can configure your new task. To create a task you will be prompted to choose a database and schema as appropriate. You also need to add it to a collection:
In addition to creating tasks, you can also sync, edit, or delete them from the three dot menu to the right of the task. Sync runs the task again, pulling in any new metadata. With Edit task details, you can change any of the original configuration (database, schemas, or collection), or you can select Delete task.
Currently supported data sources
We continue to add new data sources to the Connection manager. However there are still some sources that are only available for cataloging metadata with the data.world catalog collector (DWCC). Here is a list of our currently supported data connections:
Table 1. Supported data sources
| data source | Connection manager | metadata collection through DWCC |
| --- | --- | --- |
| Athena | yes | yes |
| AWS Glue | not yet | yes |
| Azure Synapse | yes | beta |
| BigQuery | not yet | yes |
| DB2 | not yet | yes |
| Denodo | beta | yes |
| DBT | not yet | beta |
| Domo | not yet | beta |
| Dremio | not yet | yes |
| Generic JDBC | not yet | yes |
| Hive | not yet | yes |
| Infor Ion | beta | yes |
| Looker | not yet | beta |
| Manta | not yet | yes |
| My SQL | yes | yes |
| Open API | not yet | beta |
| Oracle | yes | yes |
| PostgreSQL | yes | yes |
| PowerBI | not yet | beta |
| Presto | not yet | yes |
| Redshift | yes | yes |
| Snowflake | yes | yes |
| SQL Anywhere | not yet | yes |
| SQL Server | yes | yes |