The business glossary of the metadata catalog on data.world brings your business terms into the heart of working with your data. Since different business units can have their own glossary terms, each organization can also have its own glossary.
Glossary terms are available for easy access by everyone in your organization. Each term is also linkable to underlying data and projects to support a dynamic and fluid user experience. This seamless integration gives you the ability to easily keep glossary terms current and associate terms new data and projects, as necessary.
There are two different methods for adding existing business terms into a glossary in your data.world catalog. If you have already defined an existing list of terms, data.world can upload the list for you. If you don't yet have any terms, we can help you define new terms and then upload them. After creating your business glossary, you can easily manage it from within data.world by editing, adding, and deleting terms.
Any business glossary for any organization is accessible from the Glossary item in the left sidebar or from the Business terms tile available on the Organization's home page.
When you open the glossary, you see a list of terms and options to create new business terms and edit multiple business terms (available from the Three dot menu). You may also see a variety of other metadata information custom-configured for your catalog. In the following example, you can filter business terms using Collections, Types, and Tags. Keep in mind that the glossary for each organization contains different, configurable, metadata elements.
When you click a business term in a glossary, the details page for that term appears. The Overview tab is the default view of this page, and presents the metadata for the glossary term.
The metadata displayed on the Overview tab is completely configurable with our metadata cataloger. In the following example, you see the Name of the term, the status, and the resource in which it is found. You can also see a Description, Summary, and More Information.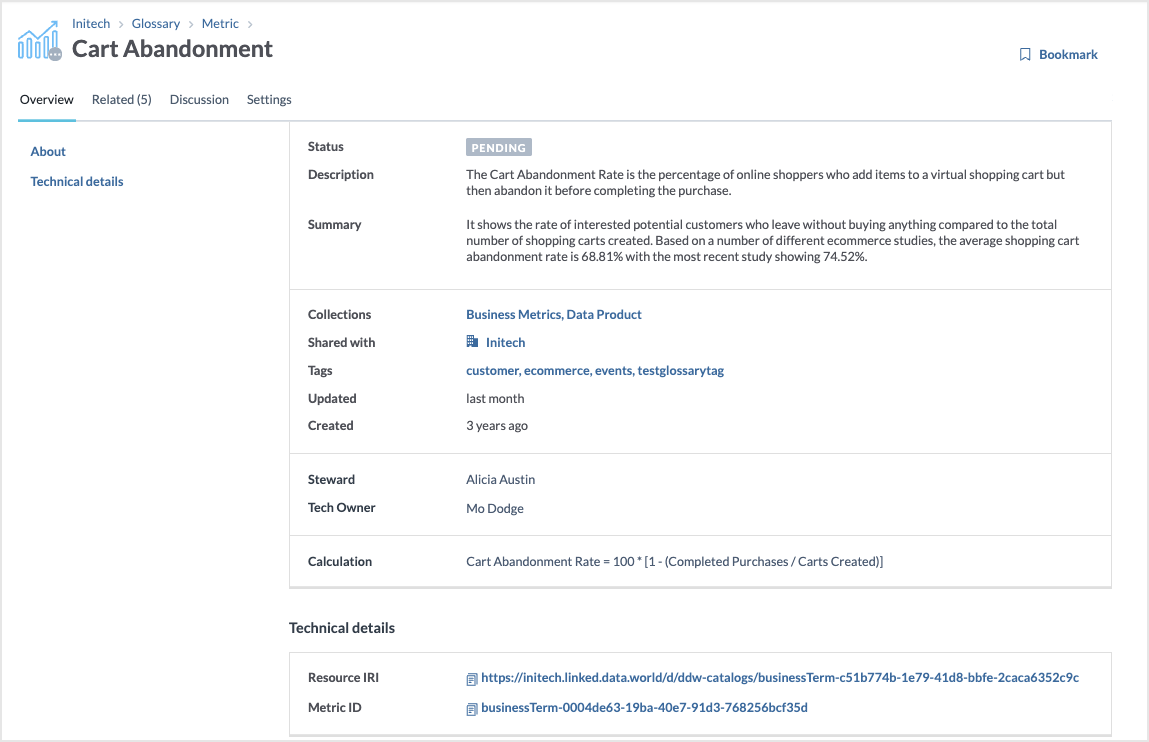 The other sections available on the Overview tab are the About this Business term, Related resources of the business term, Data lineage, and Technical details.
The Discussion tab captures all the communication between team members about the business term. You get an option to Flag or Like comments in a discussion. Flagging notifies a moderator of potentially inappropriate content in the post.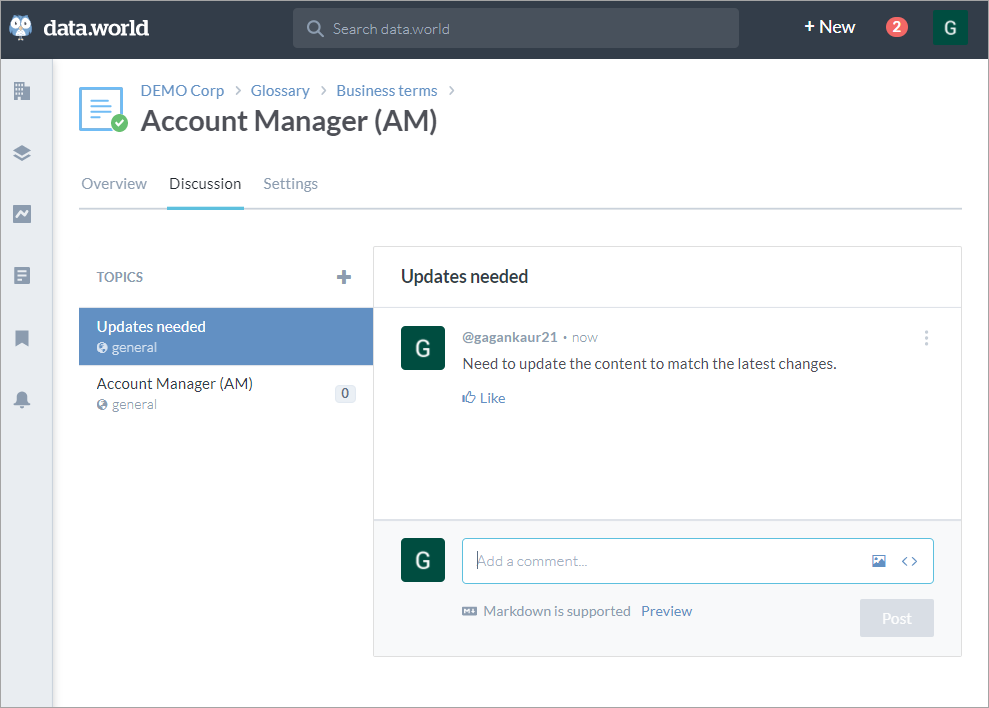 The contents on the Discussion tab are grouped into topics. Use the default topic or start a new one. Define the discussion topic, the category (General or To dos), and the first comment for the topic. Comments in topics are written in Markdown and can contain images and links.
The Settings tab lists the permissions for accessing the business term. From here you have an option to transfer ownership to another organization. If the business term is redundant, you can delete it using the Delete Business term button.